Black-Owned Vegan Enterprise Highlight: Vegan Mob
After going vegan for health reasons a few years ago, Gordon noticed several benefits and made it his business to share those benefits with others close to him. Gordon is from San Francisco and has always been associated with the local community. His two-decade rap career began and grew there, and he spent ten years helping vulnerable and formerly incarcerated children in the area. Needless to say, the Bay Area holds a special place in his heart and Vegan Mob is already on its way to becoming an icon in Oakland and San Francisco. The Oakland location has been open for less than a year and a half, and Gordon is already reviewing properties in San Francisco to open a second location.
How did this pop-up develop so quickly? Just check out the Instagram (@officialveganmob) and you will see the dedication and love the restaurant has received from the community. Celebrities, food critics, local residents, and even out-of-staters can't leave enough rave reviews for the food, and Gordon's relentless assertiveness and devotion shine through.
The support for Vegan Mob was so great that when it opened in October 2019 they sold out everything … in three hours! In those early days, it wasn't uncommon for customers to wait hours for their food with a constant line stretching around the block. While you will likely still see that long line around the corner, Vegan Mob has expanded and is regularly ordering orders for a full (outside) house.
The menu features all of the classic grill accessories, small, large and combined plates, so you can choose your favorite proteins and sides to fill your plate. The protein offerings include spicy fried chicken, fried shrimp, brisket, links and rib tips (yes, vegan rib tips!) Pro tip? Do not sleep on the Smackaroni and load at least one serving of brisket on it. Take a piece of sweet potato pie to top it off and you'll get a delightful coma that is well worth it.
But Vegan Mob is more than just a barbecue. Filipino and Mexican fusion flavors adorn the menu, making it a one-stop shop for all of your vegan cravings. They have tacos filled with impossible meat, cheese, ingredients and their famous "mob" sauce. They served fried lumpia with garlic fried rice. They even have a battered and deep fried grilled cheese sandwich that we know must be enjoyed with a side (or three) of mob sauce.
Also check out these specials. The changing weekend offers included a garlic prawn barbequito, shrimp Alfredo fries and a fried chicken Po'Boy.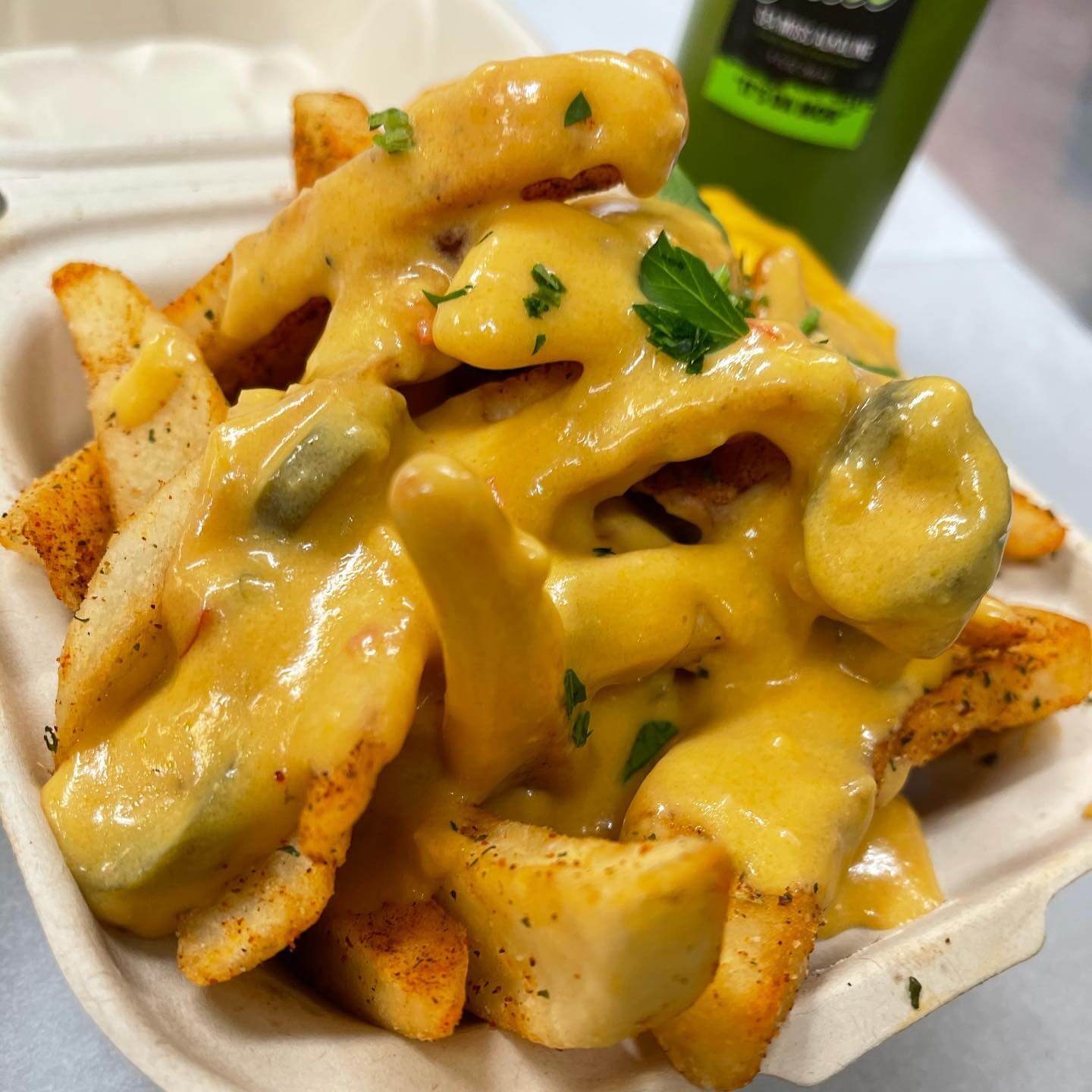 Vegan Mob is located at 500 Lake Park Ave in Oakland, California, and Gordon plans to stay there while the land is available. He has announced that he would like to find secondary accommodation in San Francisco, and while that hasn't happened yet, he has just announced that the Vegan Mob Food Truck will show up in Valencia and 185th St in San Francisco. The preliminary opening date is March 20th.
The Oakland location is open Tuesday through Sunday from 11 a.m. to 9 p.m. It's a take-away concept. So you cannot dine al fresco, but you can skip the line by ordering in advance on the website. If you're looking for delivery, check out the Vegan Mob on Caviar and keep an eye on their Instagram to see what new locations the Vegan Mob Food Truck will hit next!